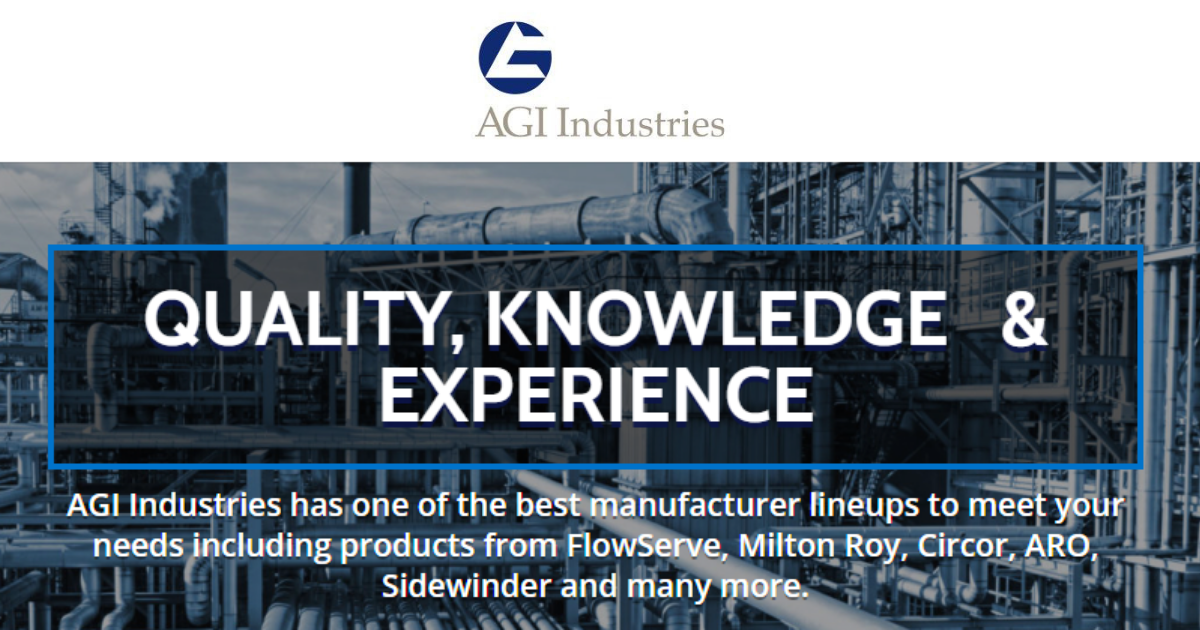 Industrial Fluid Handling Distributor - AGI Industries
AGI Industries is a multi-line stocking distributor of market leading pumps, measurement and control products, and other industrial products and accessories
---
There are many other local businesses in Louisiana, but Agi Industries may be one of the best Industrial Equipment Supplies entities servicing Lafayette. You can visit Agi Industries at their Lafayette location at 2110 SW Evangeline Trwy . AGI Industries is a multi-line stocking distributor of market leading pumps, measurement and control products, and other industrial products and accessories Agi Industries is a corporation located in Lafayette, LA and is in the category of Industrial Equipment Supplies. To get in contact with someone, you can call them at (337) 233-0626. Agi Industries is better than others in Hydraulic Equipment Supplies.
You can learn more about them including client testimonials by visiting their website. Agi Industries strives for customer satisfaction and B2C networking opportunities through brand awareness and advertising.
Look to Agi Industries if you are in need of Industrial Equipment Supplies. Agi Industries is operating in Lafayette location at 2110 SW Evangeline Trwy . Located in Lafayette, Agi Industries is a Industrial Equipment Supplies business. In the entire state of Louisiana, Agi Industries stands out from other Industrial Equipment Supplies corporation in Lafayette.
Leave your customer feedback, ratings and reviews in the comments section to let the business owners and other potential customers what your experience has been like with Agi Industries.
---
---
---
203 Oakwood Dr
Lafayette, LA 70503
Phone:
(337) 984-6130
Sea Horse Systems is a Industrial Equipment Supplies business located in Lafayette, LA
9525 US Highway 167
Abbeville, LA 70510
Phone:
(337) 898-2104
Offshore Cleaning Systems is a Industrial Equipment Supplies business located in Abbeville, LA
3121 Highway 90 E
Broussard, LA 70518
Phone:
(337) 837-1871
Cranford Equipment Co is a Industrial Equipment Supplies business located in Broussard, LA
1406 NE Evangeline Trwy
Lafayette, LA 70501
Phone:
(337) 237-1122
American Rental Equipment is a Industrial Equipment Supplies business located in Lafayette, LA
100 Lakeview Dr
Broussard, LA 70518
Phone:
(337) 837-9341
Airboat Specialists is a Industrial Equipment Supplies business located in Broussard, LA
137 Evans Ln
Lafayette, LA 70506
Phone:
(337) 837-9948
Cleancut is a Industrial Equipment Supplies business located in Lafayette, LA
127 Lafferty Dr
Broussard, LA 70518
Phone:
(337) 837-3999
Aqua Tech Svc is a Industrial Equipment Supplies business located in Broussard, LA
515 Debonnaire Rd
Scott, LA 70583
Phone:
(337) 234-6327
Esgard Inc is a Industrial Equipment Supplies business located in Scott, LA